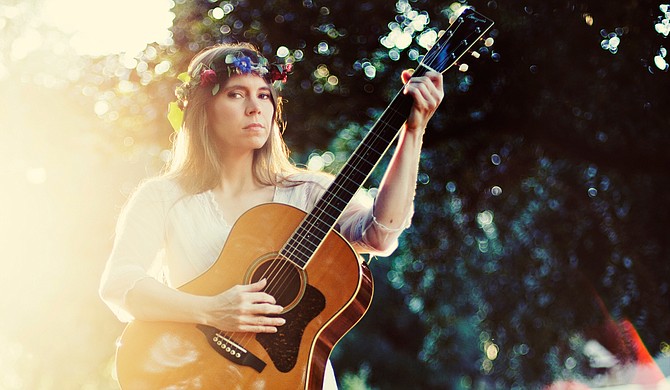 Bronwynne Brent grew up in a musical household in the Mississippi Delta, and she incorporates many elements of American roots music into her songs. (Photo courtesy Julia Bailey)
Bronwynne Brent has deep ties to the Mississippi Delta, but her music goes beyond the region's famous blues sounds, pulling together multiple strands of American roots music.

The singer-songwriter grew up in Greenville, which exposed her to many styles of music. Her songs have a folk spine, but she also brings in elements of pop, country and blues. At the center of Brent's sound is her strong, distinctive voice that brings to life the many characters that populate her songs, including the wanderers and the brokenhearted.
Brent is the youngest child in a family of Delta music makers. Her late mother, Carole Brent, sang pop and standards with bands when she was younger, and her father, Howard Brent, is a guitarist with a bottomless repertoire of classic country songs. Her older sisters, Jessica and Eden Brent, are also accomplished musicians. Jessica spent time as a country performer in Nashville, and Jackson audiences may know Eden for her blues-based piano playing and vocals.
Music permeated Brent's daily life when she was growing up, including times when most teenagers would have gotten in trouble with their parents.
"When I'd come in late—and I was always late—Momma would never be mad. She'd always play me and my date a song at the table," she recalls.
"Not everyone's mom does that."
Brent sang with her sisters at local events while she was a teenager, striking out on a solo career when she was in her 20s. After a three-year stint in New Orleans, she moved to Austin, Texas, in July 2011, where she recorded her debut album, "Deep Black Water," which she released that year.
"I moved to Austin thinking, 'It's the music capital of the world. This is where I need to go to get noticed,'" she says. "But what I found is that there were so many musicians there."
Brent says her most recent record, "Stardust," came about after she heard a song—indie steel-guitar player Maggie Bjorkland's "Summer Romance"—on the radio. The expansive sound captivated her. Brent tracked down the song's producer, Seattle-based musician Johnny Sangster, and in May 2013, she travelled to Seattle to record "Stardust."
Sangster assembled a talented group of backing musicians for the record, including bassist Keith Lowe, who has worked with Bill Frisell and Fiona Apple, and Calexico drummer John Convertino. They quickly learned Brent's songs and created distinctive arrangements for each one on the album. Brent admits that going out west wasn't the easiest way to start work on a new record.
"I did make things complicated," she says. "I could have just made another album in Austin, but I'm always reaching for something away from where I am."